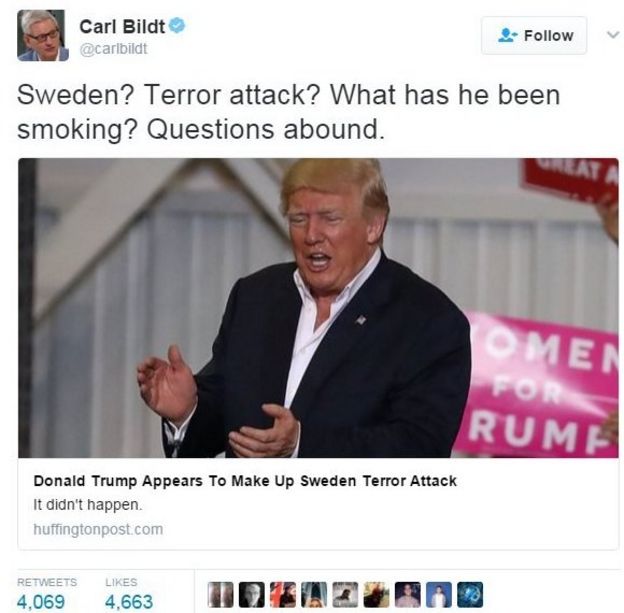 Donald Trump has been jeered because, talking about terrorist attacks in Europe
at his Saturday evening rally,
he added,
"Look at what's happening last night in Sweden. You look at what's happening last night in Sweden. Sweden. Who would believe this? Sweden. They took in large numbers. They're having problems like they never thought possible."
This was taken as a reference to a non-existent attack.
In fact, his spokesman disclosed that he was referring to a Fox News documentary he saw the previous night about migrant violence in Sweden.

He promised during the election that he would be 'presidential' but this loose way of talking is not presidential, though it is refreshing to see a politician speaking without a script or an autocue.
What is more important, though, is that he
is right about an immigrant-linked crime wave in Sweden. Instead of jeering at him, people should look at the issue.
I blogged about immigrant criminality in Sweden and its undiscussability in 2015. That was before the large influx of migrants happened. In that year Sweden was to take
163,000 refugees. I wrote then:
Sweden used to be a country with extremely low levels of violent crime and a great deal of social cohesion. Now, because of immigration, this has changed.



When crimes are reported from Sweden the link with immigration is often not mentioned. The English language press reported widespread rioting in Sweden in 2013 without for some time mentioning that the rioters were Muslim.

Now two people have been shot in

Gothenburg

and the Guardian hints that the


deprived borough where Wednesday's killings took place... has high levels of recent immigration and overcrowding.

The Guardian is able to imply that ethnic minorities are responsible for these crimes by providing what is nowadays called a narrative and the narrative is this:




Poverty, racism and segregation are driving young men from immigrant backgrounds into gangs and gun crime

(continued here)

.