In the Café Landtmann for the first time since the first week of January, 1990. I find myself liking Vienna, for the first time. I was going to say despite it's never having been Communist but some people say Austria is the last Communist country in Europe.

Or is that Greece? How hateful are English voices in a foreign city. An Englishmen is sitting behind me. His voice is nasal and of course I detest him.

Of course, one third of Vienna was ruled by the Soviet Union from 1945 to 1955, something future generations will remember only because of

The Third Man, the greatest film so far ever made, which will always continue to be watched with delight.

Khrushchev gave up the Russian sector of Austria in 1955 in return for Austrian neutrality and proposed the same solution for Germany. The Americans were unforgivably foolish to turn down this opportunity. Ulbricht was greatly relieved. His tyranny thus continued in the misnamed German Democratic Republic.

I can't help feeling that Austrians, who caused the First World War and the Second, escaped rather lightly from the debris. This is worth remembering when you see how much fuss they make now of the Emperor Francis Joseph who declared war on Serbia and caused the nearest we have so far come (fairly near) to the end of civilisation. Someone famously said that Austria's greatest achievement was to convince the world that Beethoven was Austrian and Hitler was German. An even greater achievement was to
reinvent themselves as Scandinavians.
The food is at best passable in the Landtmann but the waiters are wonderful and they have the slicked back hair one associates with Viennese. The Monarchy is gone but the cafes remain and have been duplicated in Budapest.

In 1990 I came to the Landtmann by accident. It was only last week that I discovered it was famous and that Freud was a regular until he fled the Germans. I also stumbled by chance on the famous Hotel Orient and stayed there, not knowing it was a house of ill fame. It was a very charming, pretty old fashioned hotel. When I looked it up on my last visit in 2006 It rented rooms by the hour. Books had been written about its cupidinous history. Graham Greene stayed there while writing

The Third Man.

In 1990 I didn't think of Freud or Hitler or Strauss or Francis Joseph but Harry Lime. There was three feet of snow underfoot then and snow fell heavily and spying was heavy in the air but I was very impatient for Budapest which then seemed the most exotic place on earth along with Bucharest.

1990 is very recent but another age without mobile telephones or Wi-Fi. People smoked in restaurants. Yet it felt just as repellently modern and up-to-date as now.

A friend told me that the Landtmann was the favourite hangout of the British historian, David Irving, who spent his last freemoments there before being arrested by the Austrian police for minimising the numbers dead in the holocaust. It sounds from all I read that he is a pretty useless historian, which is a shame because a good historian who had some sympathy for the Nazis, repellent though this would be, might add to the sum of human knowledge.
The next day I discovered another famous but very different café, the Hawelka, founded just as the Nazis took over. It is untidy and slightly shabby, warm and very MittelEuropa. Young Mr. Hawelka, in his early 60s, greets visitors like old friends which many are and exudes warmth. Quite properly he had not heard of Wi-Fi though in fact they have it. I love the place.




Prague was long ago ruined by tourists but Vienna isn't, is its own place, not nearly so globalised as you would expect, full of characters, but nevertheless heartless. Not a place that permits itself to be loved easily but I now like it. But it is artificial, the artificial capital of three artificial countries: the Holy Roman Empire, the Austrian Empire and now the (second) Austrian Republic.
A very intelligent Jewish-American historian, Jeremy Friedman, with whom I once by chance shared a sleeping wagon on the night train to Belgrade, told me that all the cities of Europe seemed to him museums with the exception of London. In Vienna one feels this acutely. Odd though that he was travelling from Bucharest but did not make it another exception, because Bucharest is certainly no museum. It is certainly utterly alive in its curious way.
It's not beautiful, though it has beauty in it, but it is always a joy to return home, when coming back from what is still 'the West'.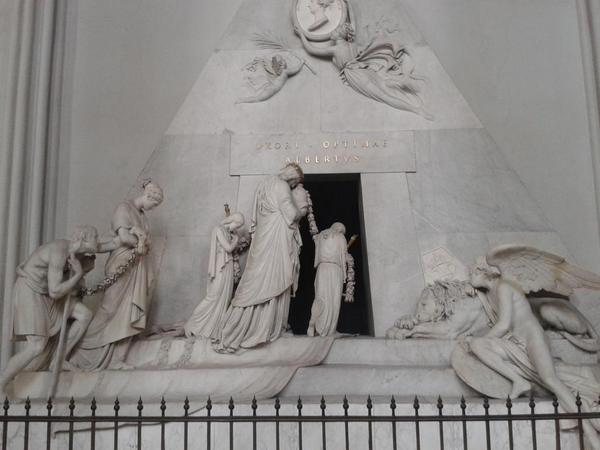 Curious tomb by Canova of Marie Christine of Habsburg, in the Augustinerkirche.