It is clear that there are certain people who are free and certain who are slaves by nature, and it is both to their advantage, and just, for them to be slaves. Aristotle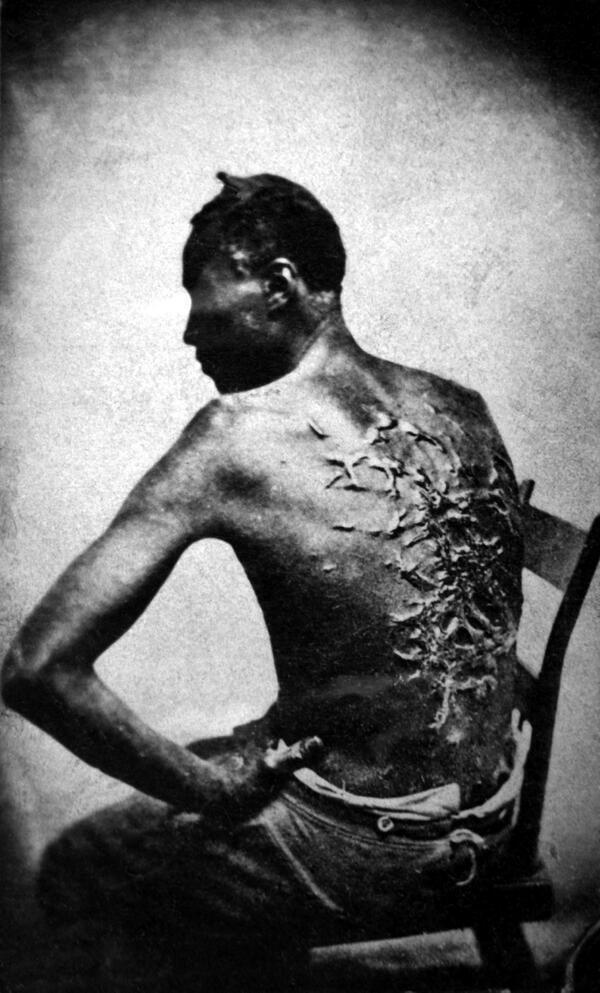 A former slave named Gordon shows his whipping scars. Baton Rouge, Louisiana, 1863
It would be very interesting and perilous to write the history of the Africans in North America from an objective point of view.
Slavery, as opposed to serfdom, faded out in Europe by the 12th century and was abolished by the British Empire in 1833 - other countries following us. Outside Europe, slavery had always existed and was probably justifiable in prehistoric times and in primitive
tribal societies. Life in such societies was, in any case, nasty, brutish and frequently short.
Slavery is in the forefront of people's minds these days not because it was a cruel institution, but because it was an example of white people exploiting brown ones. We hear less about the African slaves owned and traded by Arabs. We hear next to nothing about the 23 million Russian serfs, one-third of the Russian population, who greatly outnumbered
the fewer than four million American slaves and who were freed in 1861 by Czar Alexander II.
At school we might have heard of the English thralls, including those enslaved by the pagan Danes, but one rarely hears of the white slaves captured by the Barbary pirates, or of slavery in India or China. Slavery in China was abolished in 1909 but continued until 1949 under the Nationalists. Under Chinese Communism
it continues to this day, of course - the slaves are nowadays prisoners
. In its more traditional form, slavery continues in Mali and other parts of Muslim Africa.
Slavery is therefore not something for which only Europeans, and in particular the British and Americans, are to be blamed. On the contrary, Europeans, in particular the British and to a lesser extent the Americans, can be credited with its abolition.
However terrible slavery in the Americas was, and it certainly very often was (as was serfdom in Europe), slavery was an African institution, as it was an institution in most primitive societies, which whites adopted. The African slaves were enslaved by other Africans, who sold some of the slaves to white men.
Slavery is barbaric, but it
brought African slaves to civilisation, as a very good interview with the (black) Governor-General of Jamaica in the Spectator reminds us. I cannot forbear to quote a few lines from it:
As we waited for the tea, Cooke began to speak in patriotic terms of Jamaica as a colony of "marvellous antiquity", far older even than British India or Australia.
"Now hear me on this. When Australia was just a convict settlement, Jamaica was an established outpost of British commerce and British civilisation. "

Civilisation? "Yes," he replied. "Even during slavery the British were sending some very good people out to Jamaica . . . missionaries, reformers . . . but, as I said, to Australia, just convicts."
"But Jamaica was a brutal place . . . the plantation," I said.
Cooke was not going to condone slavery, was he?
"Well, neither am I going to harp on about the wickedness of slavery. Jamaica's greatness was due entirely to slavery."
Yes, the iniquities; yes, the horrors; but slavery, for all its manifest brutality, had rescued Cooke and his forebears from "night-black" Africa and shown them "true" (that is, British) civilisation.
Sir Howard Cooke is a British patriot to put both the BNP and British intellectuals to shame.
An interesting proof of the civilising effects of slavery is that the freed American slaves who settled Liberia did not intermarry with the natives but treated them as coolies and regarded themselves as representatives of a higher civilisation, which of course they were. I remember people wrote about Liberia as the first free black African country, when it was in fact the last colony.
The rule of the 'Americo-Liberians', the black colonists, was only ended in 1980, by a military coup.
I once outraged a liberal Anglican parson friend of mine, who was a very intelligent trained philosopher, when I suggested slavery was a relative rather than an absolute evil. He congratulated himself that he did not think like this, but I have never known how Christians can square the idea of slavery as an absolute evil with the fact that the Old Testament takes it for granted and approves of it. I recently came across, thanks to Mr. Valentin Dimitrov, this very interesting explanation of why slavery might have been morally acceptable in the time of King David and later but not in America in the 18th or 19th centuries.