Martin Harris was without his family this weekend and as they do not share his love of looking round churches that meant it was beholden on us to look at some. It was also extremely good weather - Martin's car (clever car) said it was 21

°
.
When I was a boy looking at a beautiful church was the present I most wanted for birthdays and it still is. The highlight of today's tour was the church of Sfintii Apostoli, the Holy Apostles, one of the few Bucharest churches that I have visited fairly often. (It's a ten minute stroll from my flat). It was moved on rollers by the Communists and hidden behind apartment blocks; thank God a clever engineer had the idea of the rollers and thereby saved a number of fine churches. But it was the highlight because Martin pointed out 'There is Santa Claus's hand!' and there indeed was St Nicholas's mummified hand. It is not in a very prominent place and I had previously not noticed it.
Is there a black market for stolen holy relics? If so, they should guard it carefully. Stealing holy relics sounds very mediaeval but so do lots of things that happen in this country, which, I suppose, is why I love this place.
Mihai, our cicerone, who once told me that he is not particularly religious, is quite certain that this is indeed St. Nicholas's hand and that someone tried to steal the relic from the church and died in prison on December 6, St. Nicholas's Day. I would like to believe that St Nicholas was involved in this death, and in fact can at a stretch, but I very much doubted if it really was the saint's hand and said I would look up how many of his hands are to be found in churches in Europe. Yet now I am loathe to do so. Let us leave it that it is the saint's hand indeed. But, just as many towns claimed the honour of producing Homer, so relics of
St Nicholas
are widely distributed - click here.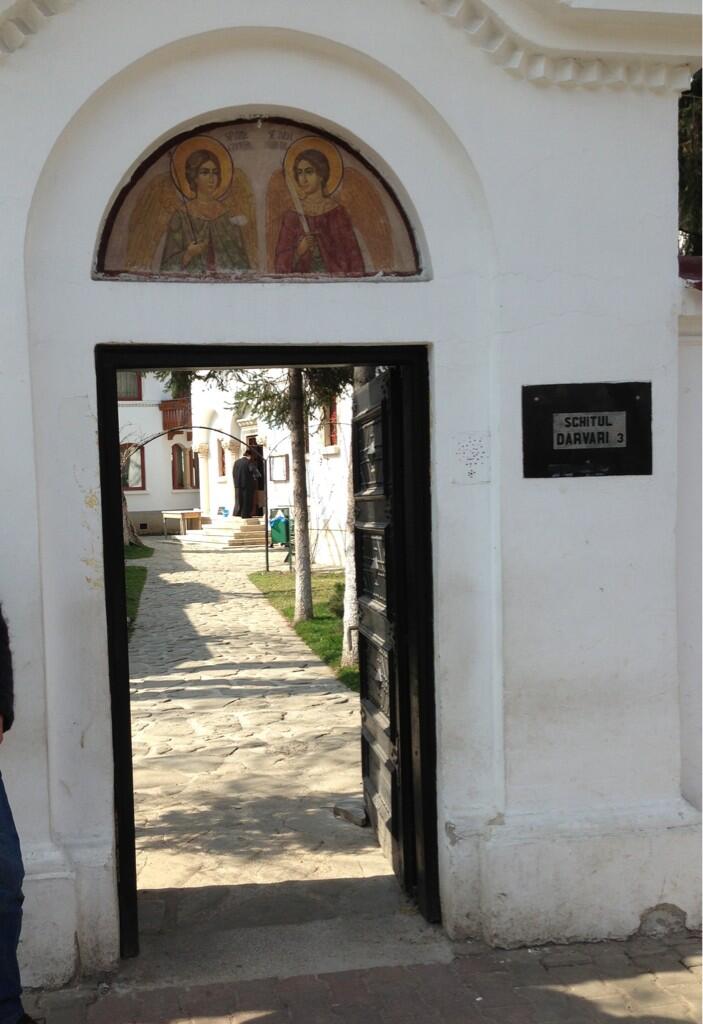 Schitul Darvari. An oasis of calm. Rebuilt 1933, beautiful frescoes from that period. Once under Mount Athos but no more.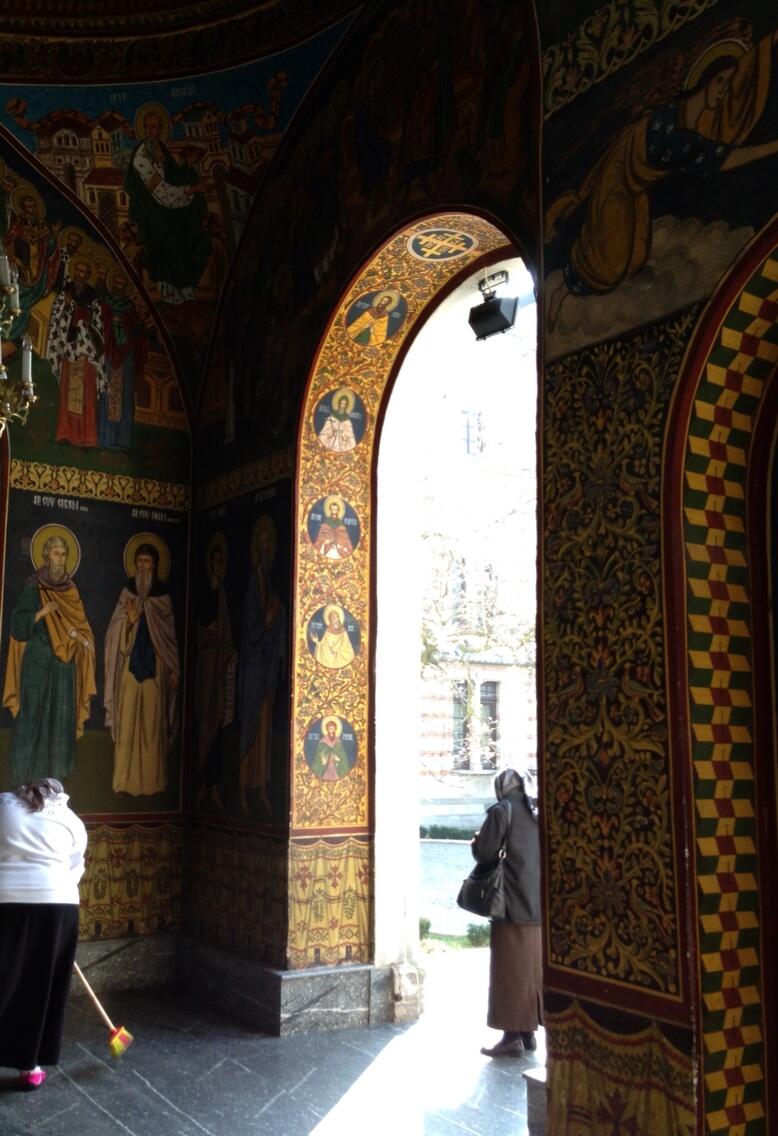 It was my idea to go to the wonderful Radu Voda.
In dreams, unfamiliar buildings turn up in familiar landscapes and I, like many people, quite often dream of churches. It was dreamlike when Mihai took me last year to the wonderful church of Radu Voda, as large, old and beautiful as the Patriarchal Cathedral and yet a church whose existence I had never suspected. I had even seem it a number of times from afar and convinced myself it was the cathedral.
Radu Voda, impersonating the Patriarchal Cathedral
The Bucur church, oldest church foundation in Bucharest but not the oldest church. A christening was going on - of a girl, which meant the congregation crowded at the door making entrance impossible. With boys the immersion takes place near the sanctuary.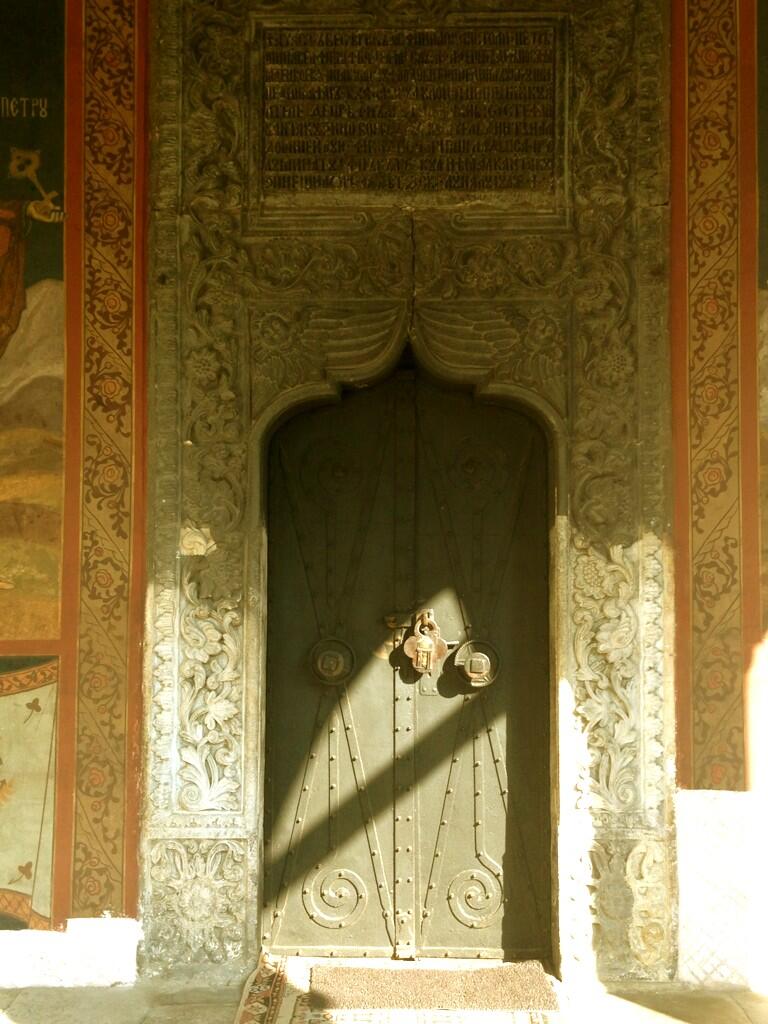 The Church of the Holy Apostles, founded by Matei Basarab in 1636, was closed for renovation, a word that always strikes fear. The doorway is from 1636.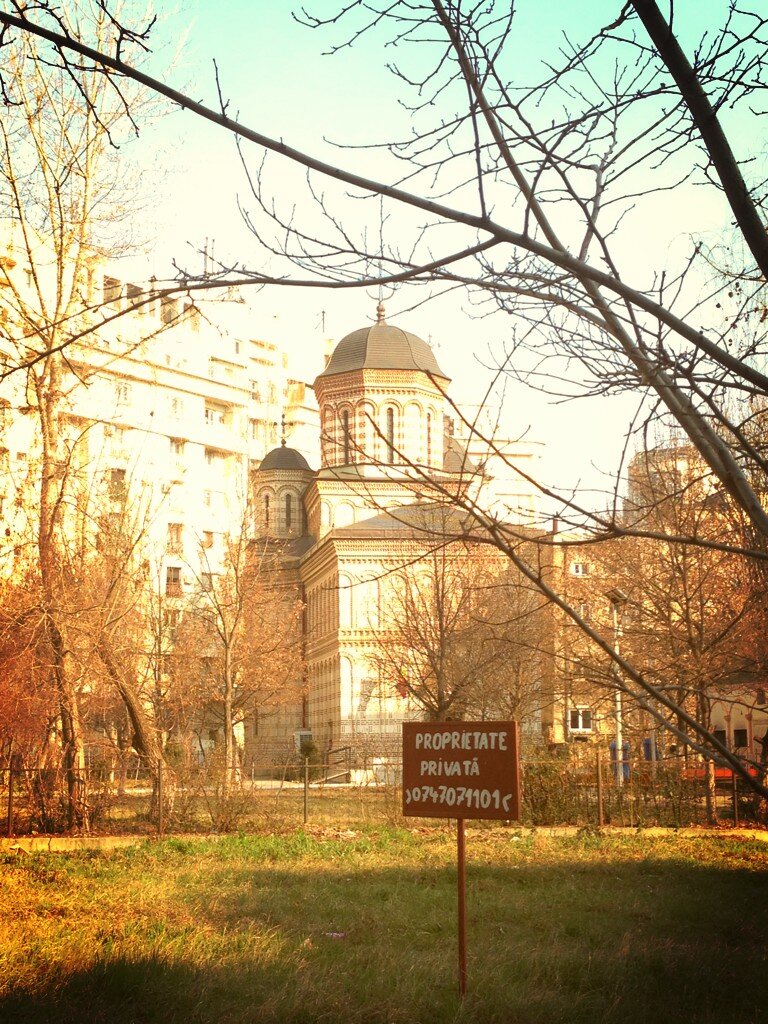 The
Mihai Voda church. This one was moved on rollers 300 yards to save it from demolition under Ceausescu's urban plan.