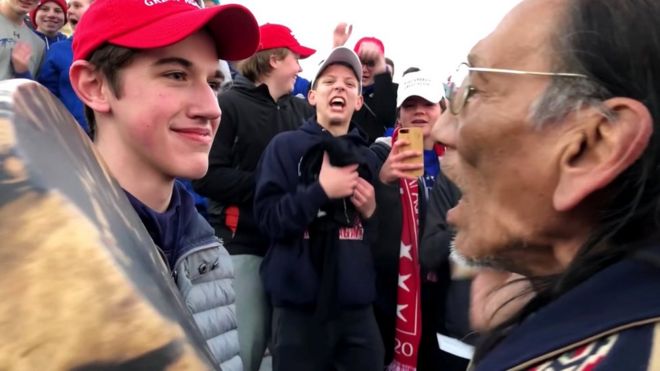 I was completely baffled by the appalling treatment dished out, even by their Catholic bishop, to those admirable young men who marched against abortion recently at Washington D.C., because I didn't notice the MAGA hat that the allegedly smirking young man wore. For this he was accused of racism.
Actually it looked like a polite, nervous smile to me but it was directed at a tiresome American Indian who came up to him banging a drum.

On knowing further and better particulars the boys were largely cleared, even by liberals who had attacked them without pausing for evidence, except in the eyes of some very bigoted liberals.
Hatred is a grave sin, inhuman but part of human nature. We normally repress the urge to hate, but hatred is fun and we feel good hating people when we think it justified: hating people who torture animals and hating the few surviving Nazi concentration camp guards. For half of America, and most opinion formers, people wearing MAGA hats are the moral equivalent of the latter.

America has been here before of course in the 1960s and early 1970s. But now the liberals are in power and anxious not to cede it.

Anti racists tend to hate just as pacifists are often full of anger.

Vegetarians are sometimes bloodthirsty and murderous.


Conservatives rarely hate. Racists (there are lots in Romania) usually hate much less than anti racists hate them.
Anti-racists tend to hate fascists but, as Douglas Murray said, the supply of fascists falls far short of the demand. This is because fascism was defeated and became very unfashionable by 1945.
Racists too are pretty few these days in the Western world and while plentiful are becoming rarer in Eastern Europe. I do not mean by racists people who dislike or regret immigration. I mean people who dislike other people because of their race.
Yes, Mr. Trump has deliberately created this atmosphere in which hatred flourishes, but morbid anti-racism and identity politics brought him to power and he greatly benefits from it. I hope he puts this anger that he has stirred up to productive purposes.

The treatment handed out by the American elite to the boys was very bad indeed and symptomatic of an elite with very false values but still I admire American politics for being so 18th century and vituperative. Much better that than consensual European politicians sitting in semi-circular chambers arguing over things already decided by panjandrums in the EU.

The Covington story is great fun, especially as the baddies had their fox shot. It might slightly impede the descent of America into unreason, when Donald Trump plays it for all it is worth.
But it's terribly depressing too.
I hate to speak ill of a Catholic bishop. Protestant bishops are fair game. But fun aside, the villains are the boys' school and their bishop. They had a duty of care to the boys and yet roundly attacked them, on no evidence but a photograph of a boy in a MAGA hat smiling at someone who wasn't white. What betrayal.
One of the two bishops who condemned the boys without evidence finally yesterday made the boys an apology, but he still shamefully leaves me suspecting that he thinks that supporting Donald Trump is a sin. I wonder how many Americans and how many Americans in holy orders do think this.
The American Episcopalian Church has moved far to the left since the 1960s and so has the Catholic Church in America.